Stop Looking For Your 'Perfect" Custom Jeep Wrangler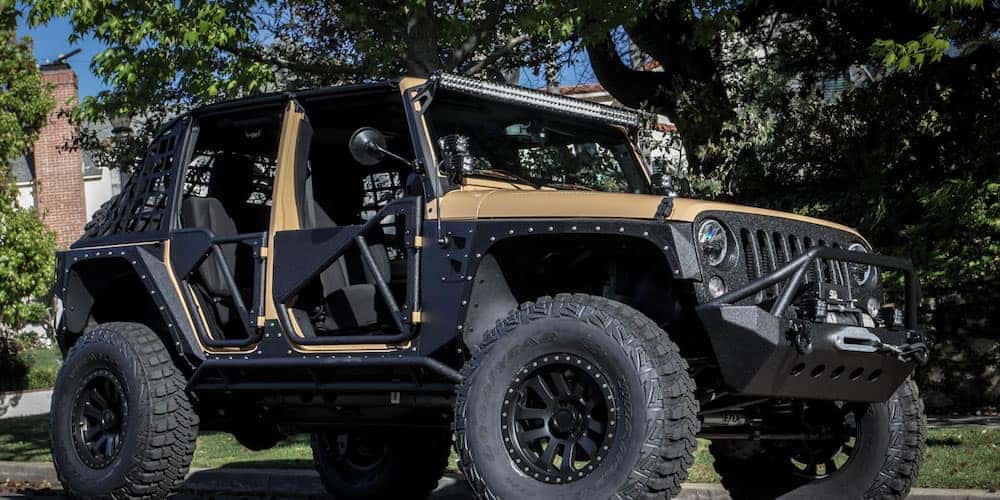 If it's true that there's a perfect vehicle for everyone, then it's also true that those perfect fits are either bought 'as is', or are the product of some customization. Of the latter, it's fair to say that vehicles, owners and their planned modifications take lots of different forms. A truck owner might be considering a heavy-duty hitch to tow heavier loads. Someone into street racing might want to install an upgraded short-throw shifter right off the bat. And right now, I can guarantee you that a father kicking down the door to 40 is thinking about upgrading the cold air intake on his 'family-friendly' muscle car.
With no end in sight for the booming aftermarket industry, it's no secret that mods can range from basic and functional, to cosmetic and extreme. The only limits are the owner's budget, their imagination and (let's be honest) the law. But of any vehicle segment in which mods are common, there may be no enthusiasts more committed than Jeep owners…especially those looking to buy or build their perfect Custom Jeep Wrangler.
Jeep Wrangler
As is, there may be no vehicle more iconic than the Jeep Wrangler. Even the most auto-ignorant of drivers can spot one coming from hundreds of yards away, and the Wrangler's connotation of freedom and outdoor adventure registers immediately with lay-people and enthusiasts alike. Relatively unchanged over the team, all it takes is one look to sell the dream.
And priced to start around $23,995 MSRP, the dream is an affordable one. Even if you make the decision to buy an older model to shave a few thousand dollars off your price-tag, Jeeps are notorious for holding their value over time. Factor in the built-in sense of fraternity (better start practicing your 'Jeep Wave' now) and it's easy to see why so many people make the decision to own a Jeep.
Whether you're opting for the two-door Wrangler that seats four or the four-door Wrangler Unlimited with seating for five, there is something for every lifestyle. And with three core trim levels (Sport, Sahara, and Rubicon) and countless special edition trims like the off-road Trailhawk (and beyond) there's something for every budget.
But will a base Wrangler meet your expectations without enhancements? Will you think that it looks badass sitting low on stock 16-inch wheels? Subjective cosmetic asides, less-inspired on-road drivers may be perfectly content with the Wrangler they drive off the lot. But if you have plans of rock-crawling, you shouldn't expect it to perform as needed without some upgrades.
But you knew this already…
Custom Jeep Wranglers in Keene NH
New Englanders looking for a Custom Jeep Wrangler have a few different options available to them, courtesy of their friends (and fellow Jeep enthusiasts) at Keene Chrysler Dodge Jeep Ram. Wanting to give everyone the chance to slice off a piece of Jeep Life, the offerings from Keene CDJR run the aforementioned gamut between basic and functional, cosmetic and extreme. It just comes down to 'what you want' and 'how you want it done'.
Authorized AEV Dealer
It all begins with our pride in being New England's primary authorized AEV Dealer. True Jeep enthusiasts understand the leading role American Expedition Vehicles plays in the Jeep accessory industry, and you can find a number of AEV modified Jeep Wranglers in our inventory at all times.
AEV Wrangler Packages
Buy if you want your Custom Jeep Wrangler built from the ground up? Working from the base model Wrangler JK, our AEV-certified technicians are able to help. With hundreds of satisfied Wrangler drivers to our credit, Keene CDJR can help you to enhance your Jeep's performance, looks, and your ability to enjoy next-level off-roading.
Available in three levels, our AEV packages range in price from $8,641 to around $15,953.
The base JK200 is a starter package, ideal for anyone who may want to try their hand at off-roading, but aren't interested in pushing the limit. Featuring a 2-inch lift and upgrade to 17" alloy wheels and 33" all-terrain tires, the JK200 grabs your attention immediately. And the inclusion of off-road lights, upgraded front and rear bumpers and AEV badging are bound to keep it.
All of this and more is available on the next-level JK250 package. First, a 2.5-inch DualSport XT Suspension is added, increasing your height while narrowing any gap between on and off-road drivability. This (literal) upgrade is enhanced further by the inclusion of upsized 35" all-terrain tires. Functional additions include the installation of AEV-branded Front Skid Plate, Water Pump Kit, and Tire Carrier.
Atop our packages sits the JK350, geared specifically for the demands of trail riding. Sure, it combines many of the features found in the other two packages; but imagine gaining, even more, lift courtesy of a 3.5-inch Dualsport SC Suspension. Consider the versatility of 35" Mud-Terrain tires. And if the trail gets the best of your cohorts, they'll be grateful for your AEV mounted WARN winch. Tying together its form and function, the JK350 package also includes the iconic AEV Heat Reduction Hood, reducing engine temperature, eliminated wind flutter and adding an even more aggressive feel to your Wrangler.
Do-It-Yourself
No, we're not being stand-offish. While we will always recommend a professional installation, we recognize that many of our customers are extremely capable in their own right. Knowing that a large percentage of Jeep owners prefer to do the work on their own vehicles, our Parts Department can help you to source the exact accessories you're looking for. From the most economical of Budget Boost lift kits to the most enduring winch and towing accessories, let us help you to complete your project faster, and better, with the highest quality parts and kits available.
Stop Looking…
No-one knows what it will take to create your perfect Custom Jeep Wrangler, except for you. No-one wants to help you enjoy your perfect Custom Jeep Wrangler more than Keene CDJR. Let us end the search for your 'perfect' Custom Jeep Wrangler, and get you out there where you can enjoy it!
But if you'd just like to take your search in a different direction, take a look at Jeep Gladiator pricing and trim levels.