Get On and Off the Beaten Path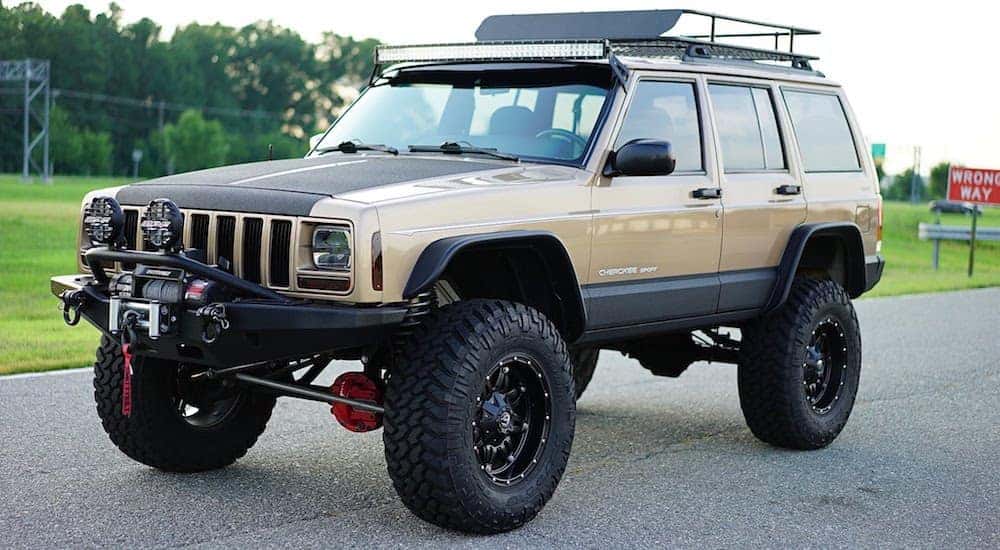 Of any vehicle on the road, its safe to say that Jeep owners might be the most territorial in terms of personal branding. One might even say, 'Show us a Wrangler owner, and we'll show you someone with plans.' Whether those plans are based on performance-driven upgrades or cosmetic enhancements depends on the individual goals of the owner.
That said it's a relatively small percentage of Wrangler owners who don't have some sort of designs on taking their rig off-road. From trail-running to rock-crawling, there are no shortage of terrains demanding to be conquered. But for those who aren't looking to throw down $40 grand for a brand-new Rubicon Recon, aftermarket upgrades are a very real part of maximizing a Wrangler's versatility, increasing its safety and (yes) making it even more enjoyable.
Making the Wrangler 'Yours' 
Whether you're a JK loyalist, or you prefer the added space afforded by the four-door Unlimited, the Wrangler has earned its iconic status. The perfect platform for personalization, the Wrangler trim levels are structured so that any of the three primary trims (or sub-trims) can be easily customized.
Some accessories offer a blend of functionality and aesthetic enhancement. From simple splash-guards to snorkels, corner guards to fender fares, there is no shortage of affordable and modest upgrades to be made. But if you're serious about taking that Jeep off-roading, you need to think bigger. You need to be conscious of the various types of terrains you may have to traverse, as well as the angles that you may approach. You need to be properly equipped to get yourself past (and possibly even 'out of') the obstacles that you encounter. Those more interested in using the Jeep on-road may not have to be concerned about such things, but you sure do.
From a suspension lift to performance tires, upgraded winch to storage lockers, some of these upgrades are considered fairly standard among off-roaders of all skill levels. Others such as skid-plates, brush guards and reinforced bumpers might be overlooked by a novice.  But the importance of correct installation might be the most easily overlooked. Improperly installed equipment can put your safety, as well as your vehicle at-risk. With this in mind, anyone looking to explore the full gamut of terrains out there should seek out custom Jeep builders to get the prep-work done right. Because the pursuit of an off-roading lifestyle should not be entered into lightly…
AEV Packages
To true enthusiasts, American Expedition Vehicles (or AEV) requires no introduction. To those who aren't in the know, AEV crafts Jeep accessories as well as fully-converted vehicles designed specifically for use off-road use, and in extreme overland conditions. Iconic in their own right, AEV manages to do the impossible in providing a wealth of perfect enhancement options for the already-iconic Wrangler.
This reveals one example of how Jeep Dealers are not created equal. As an authorized AEV dealer, Keene CDJR offers a range of options to upgrade your Jeep experience with true badass badging. If you're looking to buy, you can explore our inventory of fully-modded AEV Wranglers. Or, if you're looking to upgrade your own JK, why not consider one of our enhancement packages.
The JK200 might be the most accessible of our AEV packages, but it's far from basic. Providing enough of an upgrade to transition seamlessly from road-driving to trail-riding, your 2-inch lifted Wrangler will be riding on AEV's 17-inch alloy wheels and 33-inch all-terrain tires. Additional enhancements include AEV front and rear bumpers, off-road lights, enhanced instrument cluster and assorted AEV badging. Just enough of what you need to test the waters, but not too much, the JK200 makes for the perfect entry-level package.
The JK250 builds on to this list of enhancements by upgrading to a 2.5-inch DualSport XT Suspension and 35" All-Terrain Tires. In addition to an overall lift, this package scores you few branded enhancements that are welcome inclusions, such as AEV's Front Skid Plate, Tire Carrier and a Water Pump Kit. While differences between the two might seem minimal, the enhancements of the JK250 package makes a Wrangler far more versatile. If the JK200 makes for a good starting point for a novice off-roader, the JK250 is ideal as an entry point for a more confident one.
But the JK350 is designed for true ambition, and for the utter enjoyment of a Wrangler's capabilities. Begin with the increased height gained from AEV's 3.5-inch DualSport SC Suspension and the added versatility to be enjoyed thanks to 35-inch Mud-Terrain tires. Performance is further enhanced by the inclusion of AEV's signature Heat Reduction hood that empowers you to push your well-equipped Jeep further, faster and harder. Not only will your Wrangler be the envy of others based on how it looks and performs, the inclusion of a WARN winch might just make you their saving grace when they can no longer keep up with you.
Regardless of which package best fits your intentions, AEV also offers a wealth of other accessories worth exploring.
Custom Mods
But Keene CDJR customers aren't limited to AEV mods. There are countless aftermarket manufacturers that may suit your needs. Visit our Service & Parts tab right here at www.keenechryslerdodgejeep.com, and see how easy it is to explore the options available for your Wrangler. From bumper to bumper, top to tires, we are glad to help you source the parts that you need, even if you're a do-it-yourselfer.
Keene CDJR
Whether you're looking to mod your existing Jeep, or to buy a fully-modded rig, we have you covered at Keene Chrysler Dodge Jeep Ram. We love Jeeps as much as you do, and our skilled team can help you to find the right high-quality parts, and install them properly to ensure safety and enjoyment, both on and off the beaten path.