RAM Trucks: New Englanders' Best Bet for Planning Ahead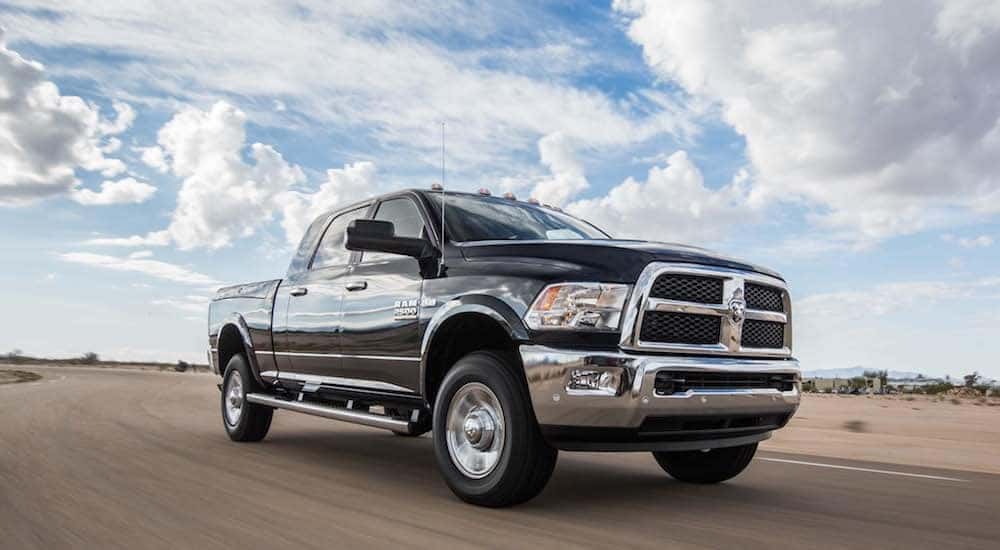 With the winter months coming, there are bound to be countless New Englanders considering the purchase of a new, or upgraded truck. No real surprise there…in fact, it's the same every year. Now before you start looking up the Farmer's Almanac prediction for this coming winter, it's important that you have a truck that is engineered to perform in the range of New England Weather conditions. That way, when searching for RAM Dealers NH drivers are glad to have Keene Chrysler Dodge Jeep RAM nearby in Keene.
Bottom-line, every New England winter differs from the winter before it. And don't expect the same weather on Great Captain's Island, Connecticut as you'll find in Madawaska, Maine. New England is a big place with huge coastal influence. With that in mind some of the most consistent winter weather you'll find in New England circles its geographic heart, in the communities surrounding the intersection of New Hampshire, Vermont and Massachusetts.
Averaging 58 inches of snowfall per year, the area is well above the national average but it's still a far cry from the extreme weather conditions experienced in Houghton County, MI. What's so special about Houghton County, MI? This is where RAM trucks are tested in terms of reliability and durability in extreme weather conditions. With record low temperatures of -26 degrees Fahrenheit (not counting the windchill factor) and snowfall that ranges between 80 and (a staggering 356) inches, testing in Houghton MI provides countless assurances. If a vehicle can thrive in those conditions, even New Englanders have little to worry about.
RAM 1500
The phrase 'light-duty' always feels like a misnomer when you're talking about the RAM 1500. Don't be fooled by the luxury feel of the ride offered by its coil-spring rear suspension, it's 'all truck' and has the versatility to prove it.
That versatility begins with countless configurations. The (two-door) Regular, and (four-door) Quad and Crew cab options can seat from three-to-six passengers, and bed options include 5-foot-7-inch, 6-foot-4-inch, and 8-foot options. Add in 10 available trim levels to choose from, you have countless means of customizing your RAM experience both in terms of aesthetics and amenities.
But we're here to talk performance. The RAM 1500 comes rear-wheel drive standard, but you can opt for 4WD options (as many New Englanders are wise to do). The trim level will drive powertrain configurations (and vice versa) but the options abound.
1500 comes standard with a 3.6-liter V6 paired to an eight-speed automatic transmission. Rated for 305 horsepower and 269 lb-ft of torque. Serving up 19-20 mpg (combined) it delivers a nice blend of output and economy and (properly-equipped) can tow up to 7610 LBS with a 1890 max payload.
The 5.7-liter V8 (which comes standard on Sport, Laramie Longhorn, and Limited trims) delivers 395 hp and 410 lb-ft. Averaging 17 mpg (combined) it can tow up to 10,640 LBS with a 1800 LB max payload.
For those interested in fuel economy, a turbocharged 3.0-liter diesel V6 might be just what you're looking for. Offering a cool 240 hp and 420 lb-ft of torque, this configuration serves up 22-24 mpg combined. With a 9210 LB towing capacity and 1600 LB payload, it's still a 'do-er'.
Earning accolades for owner loyalty, 1500 is more than the sum of its performance specs. With an iconic design and a wealth of available technologies, the 1500 infuses utility with enhanced aesthetics in a perfect package that is bound to catch anyone's attention and keep it.
RAM 2500
Recognized for its off-road performance and heavy-duty capabilities, the RAM 2500 is also celebrated for its ability to retain value and its proven performance in even the toughest of conditions. A top pick among heavy-duty trucks, the 2500 steps up to complete any tasks that exceed the 1500's wealth of capabilities.
Offering the same cab and bed configurations across seven trim levels, the 2500 comes equipped with a 5.7-liter V8 standard paired to a six-speed automatic transmission. Once again, rear-wheel drive is standard, but a four-wheel drive is an option. Either way, 383 hp and 400 lb-ft is nothing to shake a stick at. Still not enough?
A 6.4-liter V8 paired to a six-speed automatic transmission channels 410 hp and 429 lb-ft of torque. And if you're interested in the turbocharged 6.7-liter diesel six-cylinder mated to a reinforced six-speed automatic will score an impressive 370 hp and 800 lb-ft.
Worth noting is the Power Wagon trim (6.4-liter V8, crew-cab 4WD) which is ideal for the likes of winter warriors and plow drivers. That said, not every RAM driver will need such a specialized vehicle, but the 2500 has enough options for everyone. Able to tow up to 17,890 LBS with a 3,990 LB max payload (when properly equipped) there's little that the 2500 can't tackle.
RAM 3500
Described as succinctly as possible by Edmunds, the RAM 3500 offers 'three cab styles, two-bed lengths, three engines, two transmissions, and six trim levels'. Once again, no shortage of options for those seeking the perfect fit for their New England lifestyle. Uniting a near-luxury design with award-winning heavy-duty performance, the 3500 will exceed most every expectation.
Offering the same 6.4-liter V8 and turbocharged 6.7-liter diesel six-cylinder, towing capacity stands confidently at 31,210 LBS with a 6580 payload. What more could you ask for?
What to Expect?
What does the Farmer's Almanac say for this winter? Mild & snowy for the northern three-quarters of New England, and mild & wet for the southern quarter. Break out your lined boots and plan for slush, and messy road conditions. Luckily…RAM trucks have that in mind, and thanks to their rigorous testing done in Northern Michigan, you'll have a whole lot less to worry about after a trip to Keene Chrysler Dodge Jeep. Need more convincing? Compare the RAM 1500 vs. Ford F-150.