Jeep Wrangler Lift Options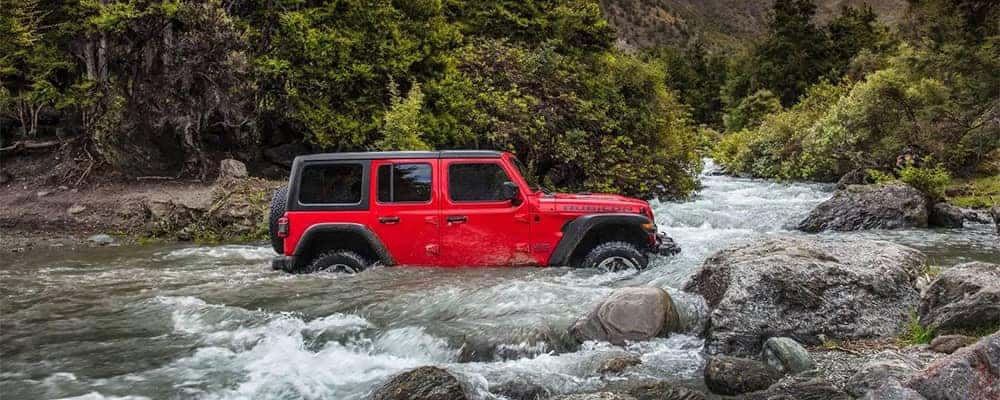 If you're looking to lift your Jeep Wrangler, Keene Chrysler Dodge Jeep Ram is here to help! The lift kit raises the Wrangler's body or suspension, and most of the time it's done for better off-roading or purely aesthetic reasons. In either case, be ready to turn some heads when you're on the trail or heading to dinner in Keene, NH! With the body lift, the distance between the frame and body increases, whereas the distance between the axles and frames increase with a suspension lift.
Jeep Wrangler Lift Kit Options
Brattleboro drivers can peruse our inventory for a lifted Jeep Wrangler for sale at Keene Chrysler Dodge Jeep Ram! If the vehicle isn't lifted, then visit our parts department and we'll make sure you have the exact lift kit needed for the Wrangler. It's important to make sure the kit, or any other Jeep parts and accessories, you're purchasing is an original equipment manufacturer (OEM). These are parts made specifically to fit and work with your Wrangler. Before making a selection, consider a few things:
Is the Jeep being used for off-roading?
Are you on a strict budget?
What size and type of tires are needed?
Jeep Wrangler Lift Kit Sizes
Knowing this information helps get the most out of the Wrangler. And it helps our team make the right recommendation for a lift kit. Your available lift kit options include:
Small Wrangler Lift Kits (1 – 2 inches) are more expensive and easier to install. The extra clearance with a small kit allows for 31-inch tires, for a stronger ride.
Bigger Wrangler Lift Kits (2+ Inches) are generally more expensive and meant for Swanzey drivers who enjoy off-roading adventures.
If you use your Jeep Wrangler for towing very often, you should keep in mind that lifting your Wrangler and installing larger tires can affect the towing capacity.
Visit the Service Department at Keene Chrysler Dodge Jeep Ram
If you're looking to lift your Jeep Wrangler, visit our service department at Keene Chrysler Dodge Jeep Ram near Walpole! You can rely on our trained technicians to install a lift kit to help enhance the performance of your 2 or 4-door Wrangler and make your off-roading adventures amazing. Contact us today with any questions about lift kits, Wrangler OEM parts, or to schedule a service appointment! Before visiting, learn more about the Jeep Wrangler interior, then browse our rotating parts specials and coupons! When you're ready to put your newly-lifted Wrangler to the test, head out to one of our favorite off-road trails near Keene, NH.
Want to take your search in a different direction? Learn more about Jeep Gladiator pricing with help from our team!