Five Ways You Can Modify Your New Jeep Wrangler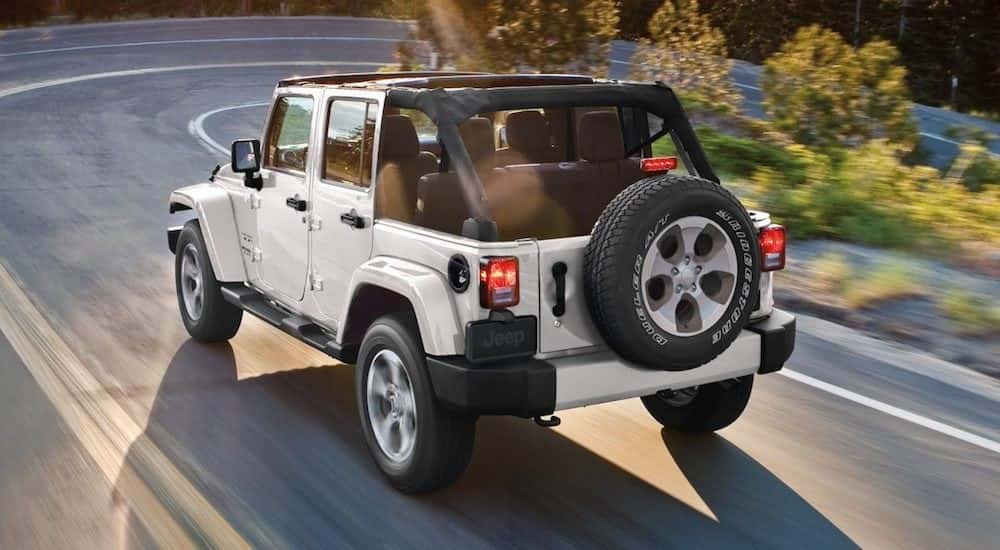 There's no denying that the Jeep Wrangler is one of the most competent vehicles on the road, and it can easily accommodate the desires of any type of driver. For instance, it's a perfectly adequate choice for those seeking a standard commuter, and it'd also be ideal for those seeking an off-roading behemoth.
Of course, some of these owners will still want a bit more from their new Wrangler, in which case they should turn to AEV's assortment of amenities. These various features can bring your Jeep to a whole new level, and fellow drivers will surely be gawking at the AEV Jeeps as they cruise on by. Let's take a look at some of the major parts that you can add to your new vehicle…
HEMI Kit
Are you seeking that extra bit of power from your Jeep Wrangler? Then you should consider opting for the JK HEMI Kit, which will elevate your vehicle's accompanying engine to a whole new level. The AEV HEMI V8 Builder Kit can be attached to any 2007 (or later) JK Wrangler that's equipped with a 5.7-liter or 6.4-liter AEV HEMI V8 Engine, and the accompanying Air Box will assure that the air filter system is still working to its maximum potential.
Presumably, since this offering will elevate the performance of the overall vehicle, you may assume that it's relatively difficult to install. However, this isn't the case, as the HEMI Kit is incredibly easy to add to your Jeep. The "no-measure motor mounts, a perfectly fitted exhaust, a custom radiator bottle…and a wiring harness that is literally plug-and-play" means you'll never have to finagle with pesky (and potential dangerous) wires as you're looking to modify your vehicle.
Front and Rear Bumper
Many drivers assume that a bumper is solely intended to protect the vehicle from any road hazards or similar obstructions. While that is certainly true, AEV has released both a front and rear bumper that will play a bigger role than simply preserving your Wrangler's pristine paint job.
The rear bumper is capable of holding a number of useful amenities that could come in handy during an off-roading excursion. For instance, drivers can attach a spare 40-inch tire to the bumper thanks to the chassis-mounted carrier. Furthermore, customers can even store materials inside the bumper, providing them with that extra bit of storage space. AEV suggests drivers can hide a five-gallon jug of water, lights, a hi-lift jack, a shovel… essentially any tool that may come in handy during your journey.
Meanwhile, the front bumper includes a number of amenities that will assist you during your trip. For instance, the light mounts and fog light mounts will allow you to equip your ideal lighting devices, assuring you're receiving maximum visibility. The accompanying crush cans will positively impact airbag deployment, and the unit can also accommodate a winch mount or skid plate. Best of all, the front bumper is extremely attractive, meaning you won't be compromising your Wrangler's good looks when opting for this amenity.
Roof Rack
Perhaps you're seeking even more space to store your cargo. In that case, you should consider AEV's roof rack, which will allow you to practically pile whatever luggage you desire on top of your Wrangler. The platform, which measures 76-inches by 55-inches and weighs 68 pounds, and it should be more than capable of accommodating whatever equipment you're looking to store. Despite this part's ability to hold all of this weight, it only adds around four inches to the top of the vehicle.
Of course, this doesn't solely have to be used for hauling cargo. Rather, AEV touts that Wrangler owners can even use the roof rack as a sleeping platform or "roof top tent." If you have issues with sleeping on the ground during a camping trip, then you can simply sleep atop your Jeep, instead!
Reduction Hood/Snorkel
Have you noticed that your aging Wrangler has seemed to be struggling when traveling at higher speeds? Well, it's likely that the vehicle is asking for more air, and the engine (and accompanying mechanics) may be struggling with the heat. In this case, a reduction hood is an excellent inclusion to your Jeep. This part is intended to capture the cooler outside air and send it directly to the engine, thus avoiding any of the warm, stale air that's often used instead. This won't only cool down the entire system, but it will also influence the vehicle's performance.
The accompanying Snorkel air intake system will play a similar role, although this particular part also accommodates odd terrain. The feature will allow the Wrangler to overcome water or dirt, which would ordinarily compromise the vehicle's mechanics. The snorkel can easily be attached to the 3.8-liter V6 or 3.6-liter Pentastar V6, and the inclusion can completely revamp your entire Wrangler.
Seat Covers
This may seem like a rather ordinary and underwhelming way to modify your Wrangler. However, by opting for seat covers, you can preserve the interior quality of your vehicle, especially if you're constantly off-roading in muddy conditions.
The JK Cordura Front Seat Covers are made of a tough, waterproof material that will be able to overcome any mess that comes its way. The long-lasting neoprene covers are capable of tolerating mud and rain, and owners can subsequently wash the material if they want to remove any stains. These covers also won't impact performance in anyway, so you won't have to worry about these inclusions compromising your Wrangler's ride quality. Plus, they are available in an array of colors (including black, saddle, and khaki), so you won't be reducing the aesthetics of your Jeep's interior. AEV also sells a rear seat cover that essentially provides the same advantages, and they even include small pockets where passengers can store maps or drinks.
There's really no limit to your customizable options, meaning you can completely transform your Jeep Wrangler into your picture-perfect SUV! The Jeep Gladiator is very similar to the Wrangler as well! Be sure to learn more about Jeep Gladiator design to see if it better suits your needs.