Bring the "Bam-a-Lam" with RAM Trucks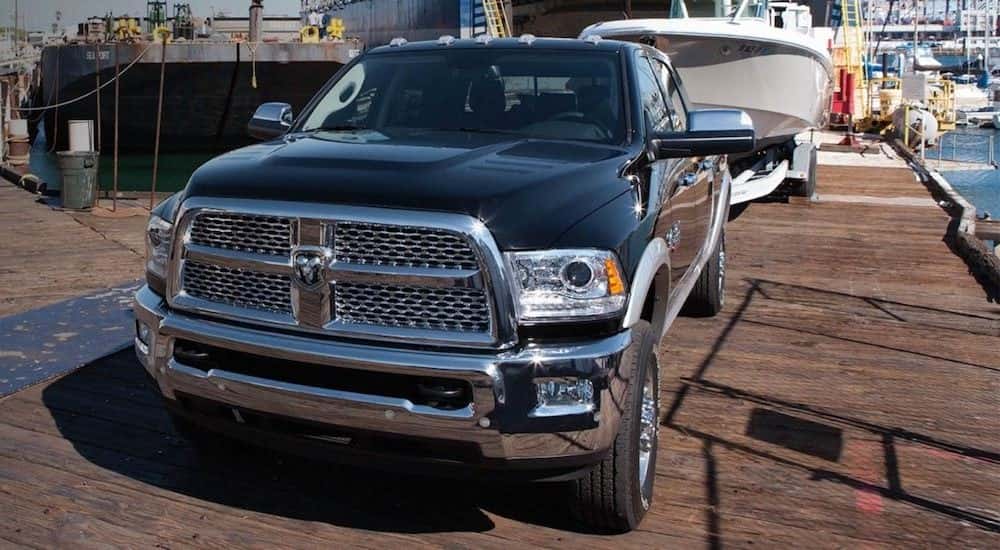 Why RAM trucks? For several years, my brother-in-law had a Black RAM 3500 Crew Cab which we affectionately named "Black Betty" (yes, after the classic 70s rock anthem by Ram Jam). Powerful, reliable, and ready to face any task or adventure that came its way, Betty was a steady fixture in my young adulthood. There were road trips, a full-scale rebuild of his and my sister's first home, and Betty even helped me move a few times, and even pulled me out of a mud-pit or two. No matter what the task, Betty had the versatility we needed. And when any (and every) one of those jobs was done, you would hear one (if not a number of us) utter the lyrics of the song that inspired her name…
"Bam-a-Lam"
It was a code, a victory cry affirming that there was no task too extreme (or too mundane) for this magnificent beast. Always a Mopar guy, always a Dodge guy, Betty only served to cement RAM tucks as my top pick of any truck offerings. It never let us down, never failed to bring the "Bam-a-Lam."
Today's RAM Trucks are a continuation of that same expectation. Not only do you get the trademark performance, but there are a wealth of trim options and configurations to customize the RAM to fit your needs. Consider the growing number of available tech features and interior refinements that are becoming increasingly more standard. Whether regular, crew, quad or "mega" cab, your seating needs are covered. And with their coil spring rear suspension (as opposed to leaf-spring) you are guaranteed a smoother ride than you'd receive from most every competitor.
Ram 1500
Light-duty, but full-size, the RAM 1500 is deceptively ahead of the times considering its enduring longevity. Priced to start at $26,495 MSRP, the 1500 remains accessibly affordable, while offering a range of trim levels that shatter any misconception that the long life of the 1500 is an implication of sitting idle.
Powered by an efficient 3.6-liter V6 (standard) paired with an eight-speed automatic transmission, the 1500 delivers 305 horsepower and 269 lbs-ft of torque. Available in both rear-wheel and 4WD options, it averages 19-20 mpg (combined), and a 7.9-second acceleration from 0-60 mph. Properly equipped, you can expect up to 7,610 LB towing capacity and a 1,890 max payload.
The optional 5.7-liter V8 comes standard on the higher trim levels, serving a more pumped-up 395 horses and 410 lbs-ft of torque. Fuel economy drops to 17 mpg (combined) but it trims the 0-60 sprint down to 7.1 seconds. A 10,640-LB towing capacity keeps it in-line with competitors, as does an 1,800- LB max payload.
A turbocharged 3.0-liter Diesel V6 is also optional (except for the Express, Sport & Rebel trims) and comes standard on the 1500 HFE. Generating 240 horses and 420 lbs-ft of torque, the more eco-friendly engine averages 23 mpg (combined), towing up to 9,210 LBS with a max payload of 1,600 LBS.
Explore the 10 (yes, 10) trim level options, and you can begin to count the reasons why RAM trucks have evolved beyond their performance, and are offering some of the most luxurious cabin experiences in the segment.
Ram 2500
Balancing the muscle of a true workhorse with the refinement of a comfortable daily driver, there is no shortage of configuration options for the RAM 2500. Skipping right over the standard engine options for the 1500, the 2500 favors a 5.7-liter V8 as the standard engine option on most trims. Delivering 383 horsepower and 400 lbs-ft of torque, the balls-y engine is parked with a six-speed automatic transmission. Additional options across the trim levels include a 6.4-liter V8 (serving 410 horses and 429 lbs-ft), and the 6.7-liter Diesel six-cylinder (generating 350 horsepower and 660 lbs-ft).
And speaking of trim levels, the 2500 serves up seven: starting with the Tradesman, followed by the SLT, Big Horn / Lone Star, Laramie, Laramie Longhorn, Limited, and Power Wagon. While the differences are too plentiful to list, each comes with its own options for configuring your cab and bed length, but offer a wealth of amenities worth exploring.
Ram 3500
Driving it home is the heavy-duty 3500, classic in design, but forward-facing in terms of luxury. With up to a 6,580-LB payload and 31,210-LB towing capacity (when properly equipped), the 3500 may work like a beast but it offers the smoothest ride in the segment. In both design and performance, it stands as a sort of anomaly that deserves a closer look.
With a 5.7-liter V8 (paired with a six-speed automatic) standard in most trims, you can expect 383 horsepower and 400 lbs-ft of torque. However, there are options for both a 6.4-liter V8 (410 horsepower and 429 lbs-ft), and a 6.7-liter Diesel six-cylinder. When paired with an available heavy-duty six-speed automatic transmission, the latter can serve up as much as 385 hp and 900 lbs-ft.
Explore each of the trim levels (and corresponding powertrain options) to find what best suits your needs. And with optional enhancement packages, such as fifth-wheel towing, load-leveling suspension, and towing camera packages, you can rest assured that the 3500 has you covered.
Bring It Back
At the end of the day, there is no shortage of truck options. Whether you need something geared towards light or heavy-duty, each offers versatility and configurations that range from low-frills workhorse to near luxury. From the benchmark performance of the Ford F-Series, to the awarded excellence of the Silverado, to the refreshingly competitive Nissan Titan, to some of the more middling options from GMC, Honda or Toyota – there are choices. Having driven them all, there isn't a single one that has managed to change my mind. Always a Mopar guy, always a Dodge guy, and always a RAM guy…because of all the options out there, nothing else brings the "Bam-a-Lam" quite like a RAM Truck. Need more convincing? Compare the RAM 1500 vs. Ford F-150.