Custom Jeeps for Sale – Keene, NH
Here in Keene, NH, there are plenty of opportunities to explore the untamed wilderness that the East Coast has to offer. From hiking the mountain trails, to kayaking the swift river currents, to blazing a trail in your very own off-road capable Jeep vehicle, New Hampshire is an untapped resource for the adventure-inclined spirit. Jeep vehicles directly off of the assembly line are perfectly capable of tackling your off-road ambitions, but for a truly incredible all-terrain experience, there is no better vessel for exploration than a custom Jeep for sale here in Keene, NH.

Ask About Custom JeepsView InventoryCurrent Offers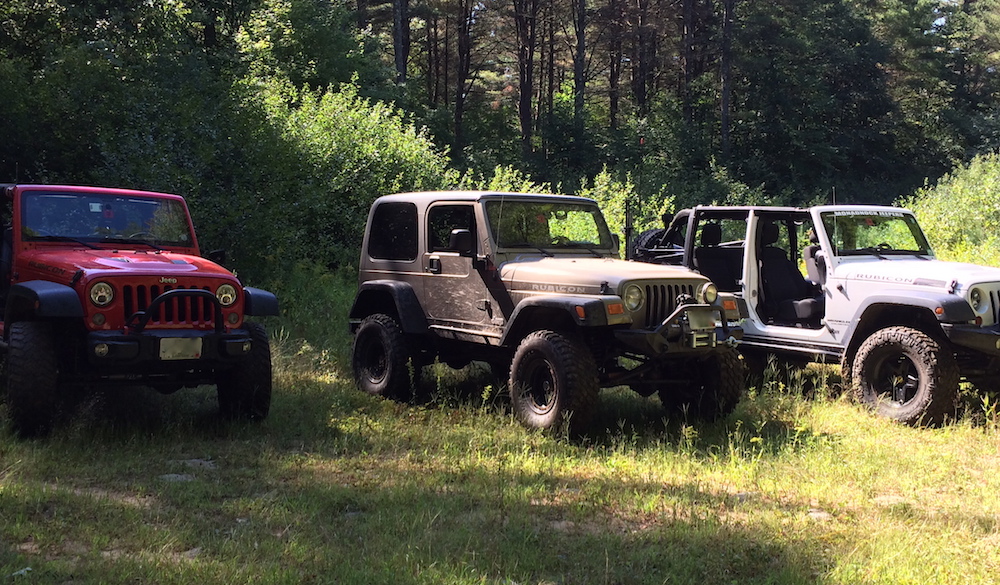 The Custom Jeep Experience at Keene CDJR

If you are an adventure junkie who dreams of taking your Jeep where no other vehicle has gone, then you have come to the right place. Here at Keene Chrysler Dodge Jeep Ram, we are committed to providing drivers from all over the state of New Hampshire an unparalleled opportunity for unlimited exploration. While we sell new and quality pre-owned vehicles from the biggest name brands in the American automotive industry, here at Keene CDJR, we offer so much more than a cookie-cutter vehicle.
As one of the official American Expedition Vehicle dealerships in North America, Keene CDJR is expertly equipped to tackle all of your custom Jeep needs. From lifting your Jeep Wrangler with a custom AEV package, to modifying your Grand Cherokee to be the most unique version of itself possible – Keene CDJR has you covered. While we are THE destination for having your current Jeep vehicle customized, Keene CDJR also sells Jeep models that have already been custom tailored for adventure. Buying a Jeep that has already been given the Keene CDJR custom treatment is the perfect choice for buyers who need a capable Jeep sooner, rather than later.
One of the reasons why we love the iconic Jeep brand so much, is that they offer the largest selection of off-road ready vehicles that aren't just equipped with a measly four-wheel drive system, but that are engineered for ultimate all-terrain performance. Jeep vehicles are perfectly capable of tackling the off-road trails here on the East Coast, but we love pushing these automotive marvels to their limits by outfitting them with our genuine American Expedition Vehicle lift kits, accessories, and performance parts. It is for that very reason why we have made it our passion to provide area drivers with the best custom Jeep building facility in all of New Hampshire.
When you come in to our state of the art facility for your custom Jeep modifications, we will work closely with you throughout the entire process, in order to find the package that will work best for your unique needs. Once we have nailed down the details of what sort of customization your Jeep will receive, our expertly skilled certified technicians will get to work on tailoring your Jeep to performance-enhanced perfection.
Building your custom Jeep with Keene CDJR is not a process that is achieved overnight. Rather, we take our time in order to ensure that your Jeep comes back to you exactly as you envisioned it would. The journey to customizing your Jeep is one that promises to be as much of an experience as the adventures you will soon embark on. From start to finish, you can expect to be dominating the off-road trials in your newly customized AEV Jeep within about one month. At Keene CDJR, we never rush through the process, so depending on the circumstances, sometimes a modified Jeep can take slightly over a month to complete.
Whether you have our skilled technicians modify your Jeep vehicle for you with genuine AEV parts, or purchase one of our in-stock custom Jeeps for sale, we will make sure that you are completely confident behind the wheel of your new Jeep. Once your Jeep is completed, or you finish with your new custom Jeep purchase, a member of our management team will personally show you the ropes out on local trails. Regardless of whether or not you are a seasoned off-road veteran, at Keene CDJR we feel it is important to take you out to ensure that you fully understand the new capabilities of your Jeep. Not only does it give us a chance to give you peace of mind, it also allows us the opportunity to show off what our incredible team of technicians is capable of creating. On top of all that, heading out on the trails in a newly custom Jeep is just plain fun!
Buy a Custom Jeep Vehicle Today

If you don't have the time to wait for us to professionally outfit your Jeep for off-road adventure, then we invite you to come down to our location at 410 Winchester Street right here in Keene, NH. We have a great selection of custom Jeeps in stock on any given day, and our inventory of modified Jeeps is not just reserved for Wranglers. From brand new Grand Cherokees to retired pre-owned Commander Sport SUVs, at Keene CDJR we offer everything you could ever want out of the Jeep family lineup.
If you aren't quite ready to fully commit to the custom Jeep building process, then we invite you to peruse our website, read up on our informative blog, and even stop by to see one of our custom Jeeps in person. Our knowledgeable team is always ready to answer any questions you may have regarding our new or pre-owned Jeep vehicles, and our versatile inventory is always available to view online twenty four hours a day, seven days a week.
Once you decide to come in and check us out for yourselves, we would love to speak with you about our unique process for customizing your Jeep brand vehicle. A member of our sales team can even show you some of the custom Jeeps that are in our current inventory, so you can get a better idea of what your Jeep vehicle is capable of achieving.

A Great Location with Convenient Hours

Keene CDJR is committed to offering our customers the ultimate convenience in every step of the car buying process. Centrally located right here in Keene, New Hampshire, we offer hours that are well suited for a variety of work and social schedules. While other local dealerships close on Sunday, we offer hours from 11AM until 3PM, because we understand that not everyone is available to purchase a vehicle Monday through Saturday. If your schedule doesn't fit into what other dealerships have limited their hours to, we invite you to come down to Keene CDJR and discover how a truly customer-focused car dealership operates. For those who don't prefer to shop for a vehicle on Sundays, we are also open Monday through Friday from 8AM until 8PM, and on Saturday from 8AM until 5PM.
Here at Keene CDJR, there will always be a knowledgeable member of our team to speak with you about buying a custom Jeep vehicle, or to walk you through the process of having your current vehicle modified. With nothing to lose and the unpaved world to gain, we hope that you give our family-owned and operated Chrysler Jeep Dodge Ram dealership the chance to show you what a truly custom car buying experience looks like.