20 Reasons Why You Should Purchase a Lifted Jeep Wrangler
The Jeep brand isn't just known for crafting quality off-road vehicles – they are known for creating the best off-road vehicles available in the world. The iconic American brand is about as American as automotive brands go. Getting its start producing military vehicles for this fine country during World War II, Jeep has extended their commitment to tackling extreme terrain into the civilian market with the Wrangler model. Jeep Wrangler was styled after the Jeep CJ-7, which first came to market in the early 1940s. The official Wrangler nameplate came into production in early 1986, and marked the beginning of an off-road vehicle revolution.
No other SUV like it had ever been made available to the public in the past, and drivers were immediately attracted to the sense of adventure it symbolized. Since its formal announcement at the Chicago Auto Show back in 1986, the Wrangler has seen many transformations, three generations, and has sold millions of units that now grace American roadways. The way to a Jeep owner's heart may not be simply through the purchase of a Wrangler off the assembly line, but rather through the honor of buying lifted Jeeps for sale.
Why a Lifted Jeep?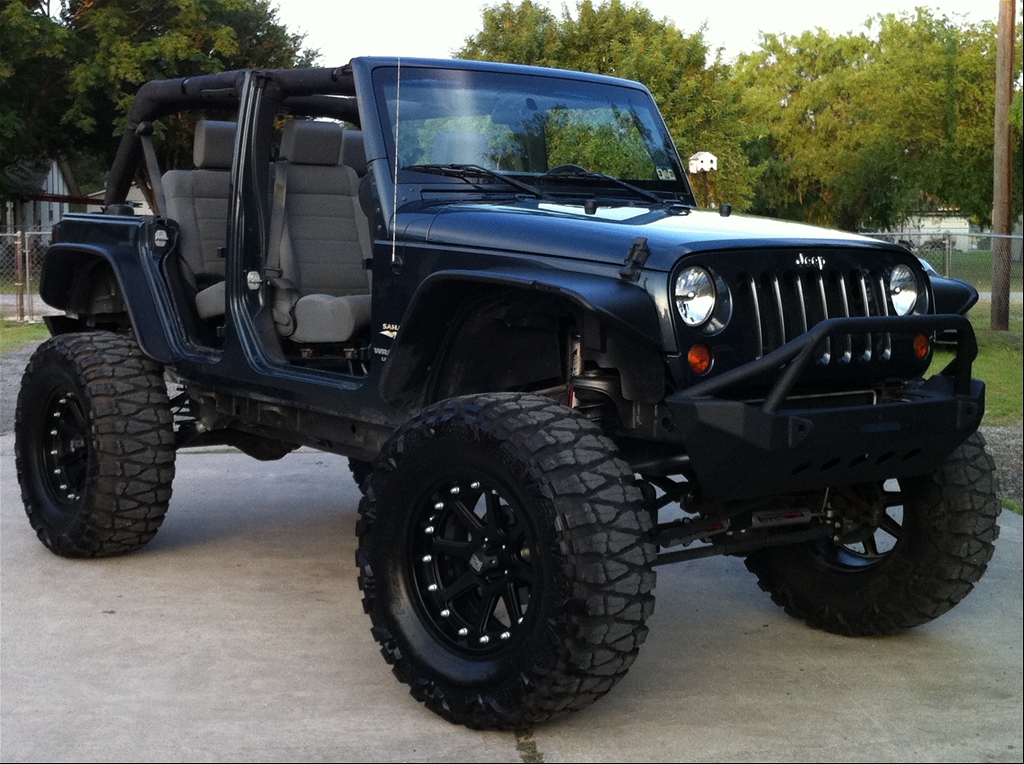 Sometimes, where the road ends, the adventure begins. While most drivers here in the United States are restricted to staying on carefully carved roadways, Wrangler owners aren't most drivers. Continuing past where the pavement ends, elicits a childhood fantasy that is becoming the reality of drivers who opt for a lifted Wrangler over factory versions.
Lifted Jeeps don't just give the perception of endless adventure, they define it. Standard Wranglers are certainly capable of hitting the trails and are able to do so quite well. However, these base model SUVs can only go so far off the beaten path, before they need to turn around. Every vehicle has its limits, and Wranglers without a professionally installed lift kit, unfortunately have more limits than others.
That leaves us not asking the question, "why a lifted Jeep?" But rather, why not a lifted Jeep?
Reasons Why You Should Buy a Lifted Jeep Wrangler
There are a million excuses any person can formulate as to why they wouldn't want to buy a lifted Jeep Wrangler. If this sort of vehicle purchase has been on your mind (and let's face it, if you are reading this than it has been on your mind), you might need a slight bit of persuasion to spur your thoughts into action. Check out our 20 reasons why you should buy a lifted Wrangler…
You enjoy life
The unpaved world is too big to ignore
Adventure runs through your veins
4×4 is not an option for your vehicle, it's a requirement
Off-road ready is not enough…
…off-road REALLY ready is.
Your adventuresome spirit cannot conform to a stock model
Jeep Culture is your way of life
You always wanted the latest toy growing up
Now you can have it
You are a very intelligent human
You refuse to be confined to pavement and beaten-down trails
You crave exploration
If you were alive in the 1800s, you would've teamed up with Lewis and Clark in a heartbeat
The idea of conquering the unknown makes you giddy with excitement
You are generally a fun person to be around
You make excellent life decisions
Your mom always made you play it safe
You don't want to play it safe as an adult
Life for you, is a daring adventure, or nothing at all.
Okay, that last one may have been borrowed from the late and great Helen Keller, but who can blame us? It's the personification of the Jeep life, and great reasoning as to why a lifted Jeep Wrangler should be the next purchase on your list – if you are already at the store, you may continue with your egg and milk purchase. If you are on your way to the store, kindly re-route your destination to 410 Winchester Street in Keene, New Hampshire. Keene Chrysler Jeep Dodge Ram is there waiting to show off a large inventory of lifted Wranglers for sale, and we know you are itching to take one out for a spin.
Reasons NOT to Buy a Lifted Jeep Wrangler
Let's face it, a lifted Jeep Wrangler isn't on everyone's vehicle must-have list. We know that this may be shocking, but it is a reality we Jeep enthusiasts have to deal with. These reasons aren't meant for the everyday consumer to take into consideration. They are meant for you, the driver on the fence as to whether purchasing a lifted Wrangler is a wise decision. Read on, and try to convince yourself that the extensive selection of pre-owned lifted Wranglers isn't waiting for you at Keene right this very second…we dare you.
Adventure bores you to your very core
Play it Safe is your mantra
You enjoy limiting your life experience
You love following rules
Conformity, in your opinion, is the best word in the English language.
Thinking about the unknown dulls you
You aren't interested in being happy
You don't want to enjoy life
You believe that rubber was meant to meet the road, and only the road
Your mission in life is to live the life of an ordinary person
All kidding aside, everything you just read can be the opposite reality for you, as soon as you get behind the wheel of the most capable off-road machine ever made. If any of the above resonated with you, we still think you should head over to Keene and check out the lifted Jeeps for sale. If none of it resonated with you, you definitely should head out to test drive a lifted Wrangler.
Why Choose Keene Chrysler Dodge Jeep Ram For Your Lifted Jeep?
At Keene Chrysler Dodge Jeep Ram, we offer a selection of new lifted Jeeps that have been professionally customized by AEV. Take a look at our available AEV lifted Jeep packages available for you to choose from, and then contact us to learn more about how you can take home one of our cool lifted Jeeps! Our dedicated finance team will help you discover a finance plan that works with your lifestyle and budget, so we can ensure you're happy with your purchase. Browse our inventory of new lifted Jeeps, then contact us online or call us at (603) 357-0808 to get started on your journey today!
With three AEV packages available with our new lifted Jeeps, you'll have no problem finding cool lifted Jeeps that offer the capability and design you need to stand head-and-shoulders above the competition on the trails in Brattleboro and Swanzey. If you still need help learning what each AEV package has to offer, the experts at our Jeep dealership near Walpole will be more than happy to help.
Answer the Call for Adventure
The thrill and sense of limitless adventure awaits, and becomes much more than a passing thought when you put your dreams into action. So, what do you say? If Helen Keller is right, and life is a daring adventure or nothing – what side of that equation are you content living on?