2017 Jeep Wrangler – Keene, NH
If you're looking for the ultimate off-roading experience, you'll find no better vehicle than a 2017 Jeep Wrangler in Keene, NH. It's a true icon in the off-roading clique, and is easily recognizable thanks to its timeless design, backed by over 75 years of experience. Of course, a timeless design isn't enough to successfully carry it through off-road trails. That's why that 75 years of Jeep experience has also managed to take legendary off-road capability since day one, and constantly evolve it to meet modern demands and consumer needs. The Wrangler is a Trail Rated model, which signifies its capability, and has plenty of off-road equipment and upgrades to conquer the toughest of trails. Of course, at the heart of every off-road machine is an engine. Without the proper engine, the Wrangler wouldn't have the power necessary to ford rivers, or enough torque in the low-end to crawl over boulders.
It's all of this combined that makes the Wrangler more than capable; not to mention widely recognized and accepted as king of off-road vehicles for 75 years running.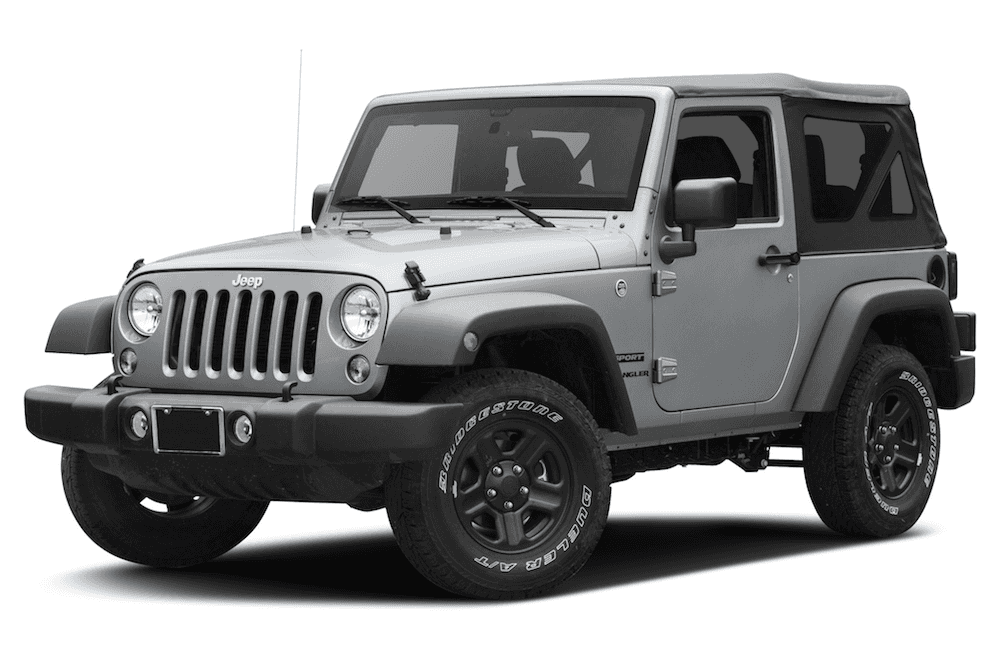 Legendary Off-Road Capability
Perhaps the biggest signifier of the 2017 Jeep Wrangler's exceptional capability is the Trail Rated badging.
Trail Rated
What does it mean to be Trail Rated? It means the vehicle has been tested and approved by Jeep to perform exceptionally well under various off-road conditions. In order to qualify for this badging, the Wrangler had to tackle the Rubicon trail – one of the most-famous and difficult trails in the nation. While there, it was put to the test against all off-road elements you can think of: rock, sand, mud, stumps, streams, rivers, etc. This put its articulation, water-fording, ground clearance, traction, torque, 4×4 system, and all the other off-roading aspects to the test.
Off-Road Features
Of course, it couldn't earn that badge if it wasn't for the off-road equipment available.
4×4 Systems
Off-road capability all starts with the 4×4 system, and that's why the Wrangler offers two: the Command-Trac or Rock-Trac.
The Command-Trac NV21 4×4 System delivers balanced off-road performance and power to all four wheels – perfect for basic off-roading and powering through winter weather. No wonder it's the standard system because the Wrangler's capability doesn't stop there.
If you're looking for tried-and-true, best-in-class off-road performance, you'll want the Rock-Trac 4×4 System. This is the system that's available on the Rubicon, and provides you a 4:1 low-gear ratio that's perfect for safely and slowly crawling over rocks and other obstacles. It provides an increase in torque for the wheels at lower speeds, allowing for more stable control.
Tru-Lok Locking Differentials
What would an off-road vehicle be without its lockers? The Tru-Lok Locking Differentials found on the Rubicon's Dana 44 front and rear axles help provide exceptional traction when its needed, simply by locking the wheels together at the axle, so they all spin in unison. Not individually, which is what typically happens when traction loss occurs.
Dana 44 Heavy-Duty Axle
Speaking of the Dana 44 Heavy-Duty Axles, they're enough of a reason to get excited. Offered standard on the Rubicon, these axles are able to add significant ground clearance, and help reduce the driveshaft's joint angles for smooth, quiet, and enhanced operation. That "heavy-duty" part of the name also means they are able to withstand erroneous blows from boulders, stumps, or other obstacles that decide to jump out at you while off-roading on the trails.
Sway Bar Disconnect System
Finally, a Sway Bar Disconnect system on the Rubicon allows you to automatically disengage the front sway bar when driving under 18 mph in the 4LO setting. This is imperative for rock-crawling, because it will allow the front tires to compress up to 29% further, providing more surface area for better traction and grip when crawling at low speeds.

Engine
With the increasing demand from the EPA and consumers for better fuel-efficiency, automakers have had to get creative with their engines, especially those who specialize primarily in SUVs, such as Jeep.
Their answer? A 3.6-liter Pentastar V6 engine that's able to produce 285 horsepower/260 lb.-ft. of torque. That torque is slightly increased with the Rock-Trac 4×4 System, and together with the engine, allows tremendous low-speed crawling capability. It's paired to a six-speed manual transmission with hill start assist, whereas a five-speed automatic transmission is optional. The latter transmission is equipped with both hill start assist and hill descent control.
Fuel Efficiency
Of a lesser concern for the Wrangler and its cult-like following is fuel-efficiency. But, it's still important to cover.
The 2017 Wrangler achieves 17 mpg city/21 mpg highway (18 mpg combined) with either transmission equipped, on any trim level. Those numbers don't look good on paper, but compared to Wranglers in years gone by, they represent a serious boost.
Acceleration
Also of lesser concern, but still important to note for daily drivers is the 2017 Wrangler's acceleration. It can do 0-60 mph in around 6.9 seconds (8.1 seconds on the Unlimited). Surprisingly quick for the segment and also compared to Wranglers from previous years.
Proving that Jeep really does attempt to refine its iconic Wrangler as the years roll on…

A Timeless Jeep Design
The design of the 2017 Jeep Wrangler isn't just styled for adventure, it's engineered for it. Combine that fact with its durable and tough-as-nails design and it satisfies in both the capability and aesthetic categories.
Styled for Adventure
The Jeep Wrangler has always been styled for adventure. Ever since the first one was released, the Wrangler's design became instantly famous. Why? Because it has elements of Jeep's traditional designs from all throughout the years, starting with day one when the first Willys MB "Jeep" helped win WWII.
Round headlights, a seven-slot grille, and even a removable soft-top feature are all aspects of a traditional Jeep. It's one of the rare vehicles that had an overly-successful original design in looks and performance, letting the company base future models off it, with minor refinements here and there to keep up with the times..
Enter the 2017 Wrangler: a vehicle that has a modern twist on a classic look. Apart from the seven-slot grille, the mirrors, aggressive stance, flat-fenders, and shape of the doors are all easily recognizable. Even those who aren't part of the Jeep off-road community know that if you're looking for a vehicle that screams "classic adventure" in its design, then you'd better go with a Jeep Wrangler.
Trustworthy, Tough-as-Nails
While the history of the design gives the Wrangler an inherent edge on durability, it's been beefed-up even more for modern times. When rock-crawling, it's essential to have off-road steel bumpers and premium off-road rock rails.
The off-road steel bumpers provide improved clearance for approaching rocks, but are also winch-friendly. Typically, steel wins vs rock, which means your Jeep will be safe from the moment you start crawling. They also have integrated fog lamps.
The heavy-gauge steel tubing rock rails are something special, and provide exceptional rocker panel and lower-body-side protection. Since they're made from a tube mold, they will resist twisting when sliding over rocks and boulders. Ensuring that you won't get hung up, but also that they won't dislodge and damage the body. Both of these are standard on the Rubicon, the ultimate off-roading Wrangler trim.
For the design itself, high-strength steel is integrated into the B-pillar (and other pillars/parts of the body) in order to improve side-impact performance during a collision (from a car or sliding into a boulder) and vehicle stiffness. Frame rails run along the mid-mounted fuel tank between the wheels for additional protection. On the Rubicon, the ultimate off-roading Wrangler, you'll find heavy-gauge steel skid plates for safer and more secure off-roading, which help protect critical components underneath the vehicle.
Why? Because when on or off the road, safety is still a priority.
Keene CDJR: A Unique Automotive Buying Experience
Looking for a more unique automotive experience in the Keene, NH area? Then Keene Chrysler Dodge Jeep Ram is your dealership of choice. Not only do we sell the hot and upcoming Jeep models. like the 2017 Jeep Wrangler, but we also offer a wide variety of automotive services. Our most prominent service being our custom Jeep department, where we sell and create custom modified Jeeps for off-roading. Apart from offering something few other CDJR dealerships do, it also creates a unique shopping environment. You'll be able to see our custom Jeep Wrangler builds sitting right on our lot when searching for your model. We're confident that even if you don't buy one, just checking each one out will put a smile on your face and brighten your day.
We also have experienced technicians who know CDJR models inside and out, and we deal in used cars, as well as new models. Our in-house finance department will have no issue lending a helping hand to get you the best deal out there on your high-quality new or used model from Keene CDJR.