Essential Off-Roading Gear for Your Lifted Jeep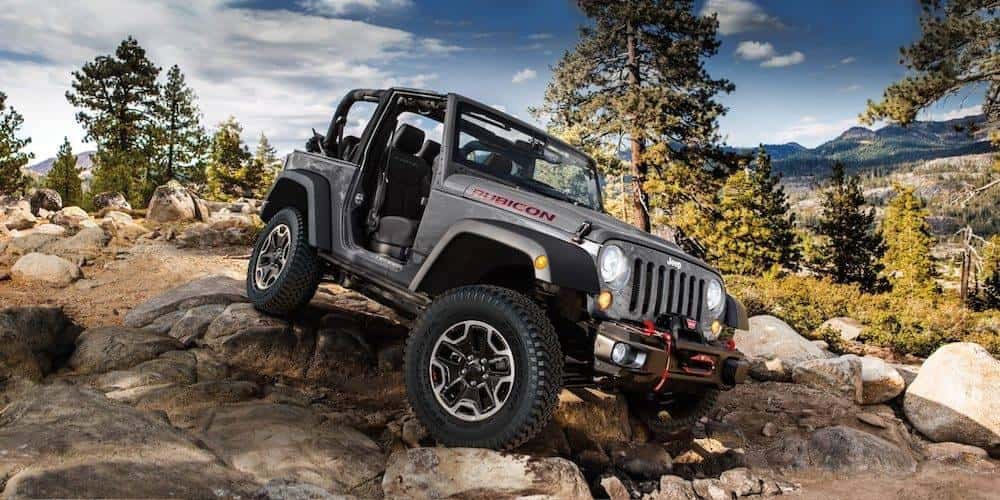 So you've picked one of many lifted Jeeps for sale at Keene Chrysler Dodge Jeep RAM and brought your off-road dream machine home. With visions of crawling over rocky slopes, splashing through rivers of mud, and climbing up snowy mountain peaks, you can't wait to embark on that great off-road adventure!
Off-road driving is exciting, but you can't take it lightly. Any of number of hazards and surprises can ruin your trip if you're not prepared. Before you hit the road, you'll want to make sure you've packed the right off-road gear. Thus stocked, you'll ensure a fun and safe excursion with your modified Jeep.
Friends
No matter where you're going with your lifted Jeep, always take friends along. Not only is off-roading more fun with companions, but they can serve as spotters to guide you over rough terrain. It's best to have a second vehicle you with in case you need a ride back to civilization!
Navigation & Communication
GPS: You'll most likely use an app on your phone tablet, but a stand alone model can do the job as well. Decide whether you will keep it in the vehicle or take it with you on hikes. Other factors to consider are the map package (topographical, recreational, etc.), battery life, and weatherproofing.
CB Radio: Most 4×4 clubs use CB radios, as they don't require a license (unlike HAM radios) and channels are frequently monitored. Make sure to buy a high-quality antenna to go with it, as that will determine your signal range.
Satphone: You'll need another option in remote areas where your cell phone won't get a signal. Satphones use satellites to carry their signals, and just like your phone, these can be had with different monthly plans.
Maps: Whether foldout maps or book-style atlases, these make great backups when electronic navigation isn't an option. Make sure your maps are up to date.
Tools & Repair Equipment
Duct Tape: The universal repair tool is just the thing to make a quick fix of almost anything. Easy to overlook, but an absolute must!
Tool kit: A good home tool kit will provide the basics, but you can also build a kit customized to your vehicle. Rather than a hard metal or plastic box, use smaller, soft-lined tool bags divided by tool type. These are easier to store and carry. In addition to sockets, wrenches, and screwdrivers, consider other items such as jumper cables, a small hacksaw, a hammer with brass drift, a telescoping magnet, straps and bungee cords, towels, and trash and zip bags.
Winch: A winch can pull you from a tough patch or haul your Jeep up or down steep slopes. Choose one with the power and speed suited for your vehicle. Generally, your winch should have a pulling capacity equal to at least 1.5 times your vehicle's gross vehicle weight rating (GVWR). Get all the accessories you'll need, such as a tow strap, D-shackles, tree saver, and carry/storage bag. If you buy after market, make sure you get the right winch mount for your vehicle's front.
Jack: If you get a flat tire (and you will), a jack is essential. Make sure to get one appropriate to your vehicle's design and tire size. You can choose from several types, such as hi-jacks (traditional beam-style jack), bottle jacks (hydraulic), and air jacks (inflatable bladder).
Tire repair kit: You can buy these pre-assembled, or build one yourself. Include both Fix-a-Flat and an air compressor, which you can attach to your battery. Also include a tire deflator, to take air out of your tires before driving over rocks or sand. Remember to restock tire plugs if you use any.
Gloves: A set of tough work gloves will be invaluable if you have to make repairs.
Flashlight: Who wants to make repairs (or walk around) in the dark? There are tons of models and sizes to choose from, including handy rechargeables.
Personal Items
Food and water: Jerky, trail mix, and fruit are great off-roading food choices. Bring at least a 48-hour supply, or enough for twice as long as you plan to be out. Pack at least one gallon of water per person, per day, if not more.
Sunblock: It's easy to get too much sun and not be aware of it, so bring that sunblock.
Toilet paper: No explanation necessary! And pack some hand wash and sanitizer, too.
Emergency Items
Fire extinguishers: Hopefully you'll never need them, but you have to be prepared. Keep two on hand, and check them before you depart. There are many different types, but you want one that will extinguish class A, B, and C fires (wood, liquids, electrical). Mount them in a spot where they'll be protected from a rollover but easily accessible.
First aid kit: You can buy a pre-assembled kit or make your own. Either way, don't forget to include any medications you regularly take. In addition to the basics like gauze and adhesive bandages, your kit should have blankets, hot/cold packs, disposable gloves, a snake bite kit, anti-diarrheal, fever reducer, anti-inflammatory, allergy medication, and water purification tablets.
Personal locator beacon: This pocket-sized device is designed to be your last resort in grave situations. When activated, it transmits alerts and location data to a global network of Search and Rescue satellites. (Hopefully you will never need to use it.)
For the Snow
Ice scraper and brush: So common it's easy to overlook, but you don't want to tackle snowy conditions without your ice scraper and brush combo. Get one with a telescoping handle for greater reach.
Snow shovel: Bring a full-size shovel if you have the room, otherwise opt for a compact or collapsible version.
Tire chains: These are exactly what you need on snowy roads for better traction and braking. If you have only one set, put them on the back—if you put them on the front, the extra traction there can cause fishtailing.
Vehicle recovery board: Slide these durable nylon boards under your tires for extra traction to get your Jeep out of a snowy rut. They're also great for sand and mud.
Dry wood and shelter: For overnight stays (planned or otherwise), dry wood and a shelter keep you warm without running down your gas or batteries. There are many types of shelters available, but a good rooftop tent will keep you off wet ground and away from nature's dangerous denizens. Don't forget wood matches or a butane lighter to get the fire started.
Packing for Off-Road Fun
Now that you have all your off-roading gear together, what's the best way to organize all this stuff? When packing your Jeep, put the heaviest items in first. This maintains your center of gravity, which is very important for a lifted 4×4, and takes strain off your suspension. Also, make sure the heaviest items are on the bottom of your gear pile. Use straps and cargo barriers to secure your gear.
However you pack, always leave good rear visibility. You're going to have to back out of a tight spot at some point, and clearly seeing obstacles may be the difference between driving and hiking home.
Lastly, if you use a roof rack, reserve it for bulky but lightweight items. This will add little to your modified Jeep's already high center of gravity and maximize interior space for heavier items.
Whichever lifted Jeep you choose, make a shopping list of the gear you'll need to ensure a fun and safe off-road adventure. A little preparation will take you a long way!